Standard body enhancementparts
Strut Tower Bar is a standard item for body reinforcement. It will stabilize suspension's behavior by preventing body from twisting at cornering.

To make hight rigidity by using oval shaft.
CARBING Tower bar uses OKUYAMA original oval shape pipes.
STKM13A Steel and A5052 Aluminum material for the best performance result.

High quality products manufactured at domestic own factory.
CARBING strut bars are fully welded, creating extremely high rigidity and reducing weight.
Every single product is welded by our skilled and experienced welders by hand. As a result, the beautiful weld line finish shows our commitment to the best quality.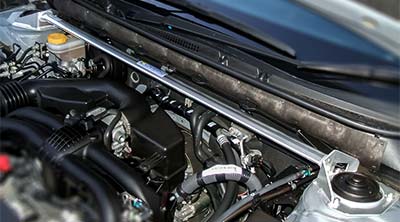 Parts No. 611 527 0 / JPY 20,000
Parts No. 621 527 0 / JPY 30,000