UNDER PANEL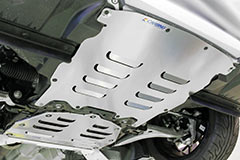 What is Under Panel ?
Under Panel rectifies air flow entering vehicle under engine room.
By adding flat panel under the engine room, under panel eliminates air pile up that occurs at mid to high speed driving. Rectifying air flow under the car adds down force to the vehicle.
Under Panel also increases air flow speed under the car that pulls the air from the engine room for better cooling efficiency.
Thus it stabilizes water and oil temperature.
Features of "CARBING UNDER PANEL".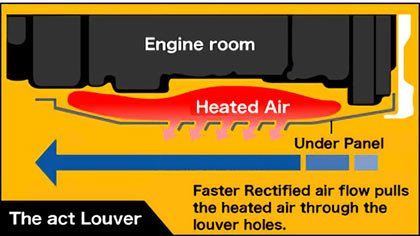 ฆCarbing Lower Arm bar installed vehicle compatible.
Carbing Under Panel uses light weight and high durability (2mm thick) A5052 aluminum.
Panel has louvers for the air to escape from Engine room more efficiently that leads to less drag. Low profile design keeps high road clearance.
It designed with Oil drain bolt and Oil filter hole for easy oil change service. It designed with Jack-up plate cover(lid) for jacking-up the car without damaging the Carbing Under Panel. Lids are there to prevent dirt to enter the Jack-up plate.
Caution.
Products are designed with brand new car specs. Older vehicles which may have damaged or worn out engine mounts or vehicles with accident may interfere engine part(s) and Carbing Under Panel. Please change engine mounts or modify part of the Carbing Under Panel to prevent the problem.
Under Panel with Side Panel
Vehicle
Model
Parts No.
Price
Photo
CodeFH
MITSUBISHI
LANCER Evo.‡[/‡\
CT9A
509 312 1
JPY 36,000(+tax)
œ
LANCER Evo.X
CZ4A
509 329 1
JPY 36,000(+tax)
œ
LANCER Evo.Wagon
CT9A
509 312 1
JPY 36,000(+tax)
œ
SUBARU
WRX STI
VAB
509 525 1
JPY 36,000(+tax)
œ
IMPREZA
GVB
509 520 1
JPY 36,000(+tax)
œ
Alfa Romeo
ALFA GT
93720L
509 732 1
JPY 38,000(+tax)
œ
ALFA156 2.0 twin spark
932A2
509 713 0
JPY 38,000(+tax)
œ
ALFA156 2.5 V6 24V Q system
932A1
509 713 1
JPY 38,000(+tax)
œ
Under Panel
TypeFกฅฅฅUnder Panel | กฅฅฅTransmission | กฅฅฅCenter | กฅฅฅRear |
Vehicle
Model
Type
Parts No.
Price
Photo
CodeFH
TOYOTA
86
ZN6
509 055 0
JPY 40,000(+tax)
œ
for Normal Panel
506 055 0
JPY 38,000(+tax)
œ
for OKUYAMA Panel
506 055 1
JPY 38,000(+tax)
œ
Rear
508 055 0
JPY 52,000(+tax)
œ
MITSUBISHI
COLT(PULS)RALLIART
COLT RALLIART Ver.R
Z27A(G),Z27W
509 323 0
JPY 30,000(+tax)
œ
Lancer Evo.VIII`IX
CT9A
509 312 0
JPY 30,000(+tax)
œ
Lancer Evo.X
CZ4A
509 329 0
JPY 30,000(+tax)
œ
Lancer EvoƒƒSƒ"
CT9A
509 312 0
JPY 30,000(+tax)
œ
SUBARU
WRX STI
VAB
509 525 0
JPY 30,000(+tax)
œ
BRZ
ZC6
509 055 0
JPY 40,000(+tax)
œ
for Normal Panel
506 055 0
JPY 38,000(+tax)
œ
for OKUYAMA Panel
506 055 1
JPY 38,000(+tax)
œ
Rear
508 055 1
JPY 52,000(+tax)
œ
IMPREZA
GDB
509 504 0
JPY 30,000(+tax)
œ
IMPREZA
GVB/GRB
509 514 0
JPY 30,000(+tax)
œ
LEGACY B4
LEGACY TOURING WAGON
BL5,BP5
509 512 0
JPY 30,000(+tax)
œ
VOLKSWAGEN
GOLF ‡X GTI/TSI/R32
1K###
509 723 1
JPY 38,000(+tax)
œ
GOLF ‡XI GTI
1KCCZ
509 723 1
JPY 38,000(+tax)
œ