Lower Arm Bar
What is "Lower Arm Bar" ?

Lower arm bar is an undercarriage reinforcement part, which helps to get the best performance that suspensions can naturally offer. It bridges left and right suspension arm's mounting points together so as to prevent suspension member from twisting, thus wheel alignment keeps straight. It also increases body stiffness because it is mounted at the frame part directly attached to the body. As Lower Arm Bars are installed at the lower part of vehicle body,No worries about C.G, elevations by weight increase. The Ovalshaft, which has a highly strong endurance against the twist, is adopted to the carrying stopper of all items. The section of the shaft and the bracket has made the one constitution with welding. It makes possible to be the light weight and high strength of the section.
Line Up
Features of "CARBING Lower Arm Bar".
CARBING Lower Arm bars are utilized STKM13A steel oval shaft (20×40φ) because of advantage of twist rigidity. Bracket part is designed as a pipe shape for high strength between body and the bar. (except some cars) Moreover, its shaft and bracket are fully welded. The CARBING Lower Arm bar has highly effect on a vehicle with up-graded big wheel or high-grip tire, especially heavyweight car.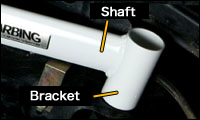 Type of variations.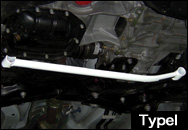 All welded constriction 2point shaped lower arm bar. This is the CARBING standard lower arm bar.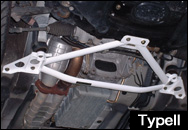 Connecting both lower arms with additional anchor points, one piece lower arm bar is designed for superb strength.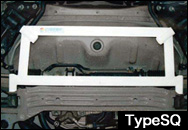 Square shaped 4point anchor points type. Fully welded, one piece lower arm bar. *Only available for MR-S and SMX.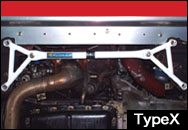 Cross shaped 4point anchor points type. Bar and bracket are separated.*Only available for Porsche and LANCIA DELTA.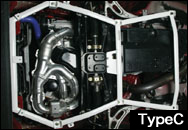 Special made model only for Subaru Impreza.